Overview of the Award-Winning New Audi Q3
The award-winning Audi Q3 is a true industry leader, a popular luxury SUV that continues to garner accolades. Most recently, the Audi Q3 received the 2020 Best Buy Award from Kelley Blue Book. In addition, the Q3 received the 2020 NHTSA 5-Star Overall Safety Rating. Ultimately, the Audi Q3 is consistently well regarded because of its safety, performance, exterior, and interior features.
Safety
The Audi Q3 features a comprehensive array of safety features. Indeed, safety is a top consideration in all aspects of the Audi Q3.
The safety features on the Audi Q3 include lane departure warning as well as rear cross-traffic assist. The Audi Q3 is built with side assist to enhance safety associated with possible cross-traffic collisions.
Power and Performance
The Audi Q3 has a powerful engine, complete with 228 horsepower and a strong torque lift. In addition, the Audi Q3 has Quattro all-wheel drive. The all-wheel-drive enhances traction and control, even in challenging weather conditions.
The Luxurious, Comfortable Audi Q3 Interior
Leather is standard on the Audi Q3, including on the seats and elsewhere in the interior. Also, the interior of the Audi Q3 comes available in 30 colors to enhance your customization options. The Audi Q3 interior also has a premier audio system with outstanding surround sound.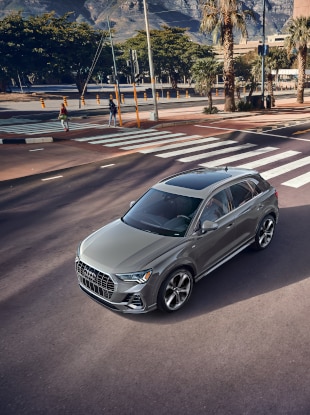 Vibrant Styling and Design of the Audi Q3 Exterior
The Audi Q3 has a sleek, dynamic design. In addition, the Audi Q3 is available in several different eye-catching, vibrant exterior colors.
If you'd like to learn more about the Audi Q3, you'll want to get behind the wheel for a test drive. The team at Audi Mendham stands ready to answer your questions and arrange a test drive of the Audi Q3.